Feb
7
Phil Meyer claimsc, "They are raising the ante on what it takes to be a journalist…and it's going to get harder still."
Chapter 3 of Journalism Next explains 3 types of Crowd-Powered Collaboration. They are Crowd Sourcing, Open Source, and Pro-Am Journalism.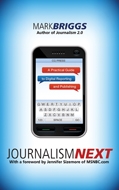 Crowd Sourcing is essentially the community versus paid professionals. Wikipedia can be updated in a matter of seconds thanks to Crowd Sourcing. Britannica may take a bit longer because of the paid professionals who edit information. Crowd Sourcing is very specific.
Open Source started with local papers sending mass emails to a list serve about articles and events. It also allows for reader to give direct feedback. It's described as a form of transparency.
Pro-Am Journalism is unfiltered; you can do whatever you want. That being said the same website professional journalist post information the audience can do the same. A prime example would be CNN's iReport!
The most important thing about posting any information is that it's correct and is appealing. NFC West Blogger Mike Sands summed it up by stating, "We must add value to information by providing analysis and context."