Apr
16
Each Spring the Mason Community opens it's arms and welcomes to newest students accepted to the University. The celebration is called Spring Preview.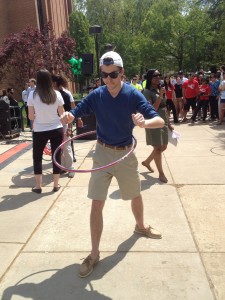 The Spring Preview begins with something all high school students are familiar with, an assembly. It's a great way to introduce them to our gym as well as get them invested in supporting the basketball programs. Students are then given a tour by the Mason Ambassadors around campus.
The finale of this event is huge. All recognized student organizations gather in front of Student Union Building 1 and have tables with information about their specific organization. The organizations compete in various contest including pie eating, three legged race, and hula hoop.
Some Fraternities and Sororities display what stepping and strolling is and get a chance to promote the Step Expo which is in the beginning of the of school.