Mar
20
The power of video has enhanced the story telling ability. The text starts with a story about a baseball player who has one leg and played the game well. There was no audio or sound from the stands. It was hailed as inspirational because you weren't watching a handicap baseball player round bases or bat you were watching a baseball player.
The best way to start your video is with a storyboard. A storyboard is a visual sketch of the story, separated into different parts so it can be organized. Contributing elements are A-roll and B-Roll. A-Roll is selection of sequences that include an interview or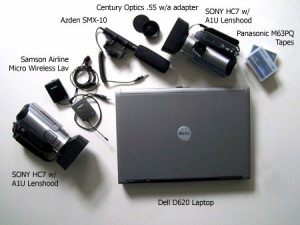 answer to questions viewers may have. B-Roll is environmental footage that supports that main idea.
It's also important to mix up your shots. The biggest mistakes rookie video journalist make is they zoom with the lens instead of using their legs. There are three main types of shots. There is the wide angle shot, medium shot, and close up. It's also important to have interview skills. They will make your video that much better.
Backback journalist have saved news stations quite a bit of money. Most backpacks include a camera, video camera, tripod, microphones, film an a hard drive. They go out to the scene and take pictures, record video, edit and publish their own work.
There are several places you can publish your work. The most popular sites are Youtube and Vimeo.
The ONE THING that the chapter covers that is  extremely importantis that you do not pan or zoom between shots. You should stop recording, adjust your lens, and then proceed with your next shot.